INVITATION TO THE FIRST PLANNING MEETING FOR THE 2017 PEACE FORUM TEACH IN  – MARCH 4
         2017 – Anniversaries beyond Canada's 150th
150 Years of Marx's Capital and 100 Years since the Russian Revolution
1867 – Surplus Value, Primitive Accumulation and a variety of other terms and ideas entered the lexicon with the publication of Marx's single volume in 1867: "Capital:  A Critique of Political Economy". What do these, and other, ideas in Marx's classic text mean 150 years later? What is Marxism today and how is it relevant?
1917 – The Bolshevik Revolution took place in Russia in November of 1917. It established the world's first workers' state with a clear Marxist and Socialist mission. What happened to that state and what is the legacy of that experience? What is its relevance today?
The World Peace Forum Society plans to use its tenth and final Teach In to examine the lessons that can be learned from Marx's classic book and the experience of the Russian Revolution. Two milestones in the development of a movement to free humanity from oppression and exploitation, and two items often consigned to antiquity.
We want to develop a Teach In and discussion day about these milestones and what they mean today, not for academics but for activists. Here are some early ideas and possible topics, they may be stand alone sessions or parts of plenary discussions. Over the next months we will start with these thoughts and build a day-long program, to take place in November 2017, on how these two seminal events are linked to the goals defined in the 2006 World Peace Forum declaration:
"Working together to end war and build a peaceful, just and sustainable world."
• Can Marx's ideas help to develop an electoral platform on which to run?
• Put your Marx on the bottom line – Marxist economics and trade union negotiations.
• Feminism and Socialism – Can an old romance be rekindled?
• Cuba – Last Bastion of Socialism?
• The Russian Revolution and Multi-Party Democracy – What happened?
• The inheritors – Marxist and Leninist organizations in Canada today.
• What was the impact of the Russian Revolution in Canada?
• Marxist globalization vs capitalist globalization.
• The National Question, the Russian Revolution and lessons for First Nations.
We invite you to JOIN US to kick off the discussions of these and other ideas – AGM and first planning meeting for the 2017 Peace Forum Teach In:
Saturday March 4
4:00 pm
Spartacus Books
3378 Findlay St, Vancouver, BC V5N 4E7
Hope to see you there,
Gary, Chris, Jeanne, Ingo and Rachel
THANK YOU TO THE BCGEU, CUPE BC, BCTF, HSA, NWDLC AND SFU INSTITUTE OF THE HUMANITIES FOR YOUR GENEROUS SUPPORT OF THE 2016 TEACH IN!!
World Peace Forum Teach-In 2016
Crisis and Resistance 
Saturday Nov. 19 at SFU Harbour Centre, in partnership with the SFU Institute for Humanities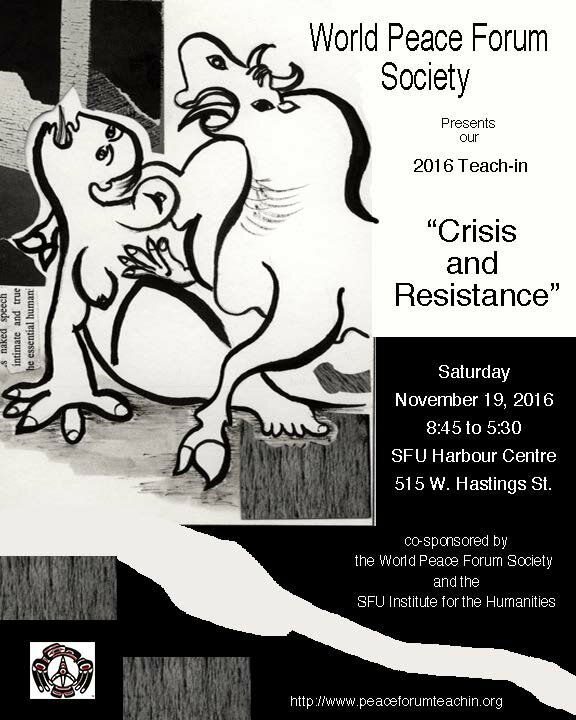 Only $25 for the whole day – no one turned away for lack of funds.
Workshop change: A History of the Middle East has had to be cancelled. We will now present The Role of the Kurds in Promoting Democracy in the Middle East. The speakers will be Mamad Toz and Juan Sadoun.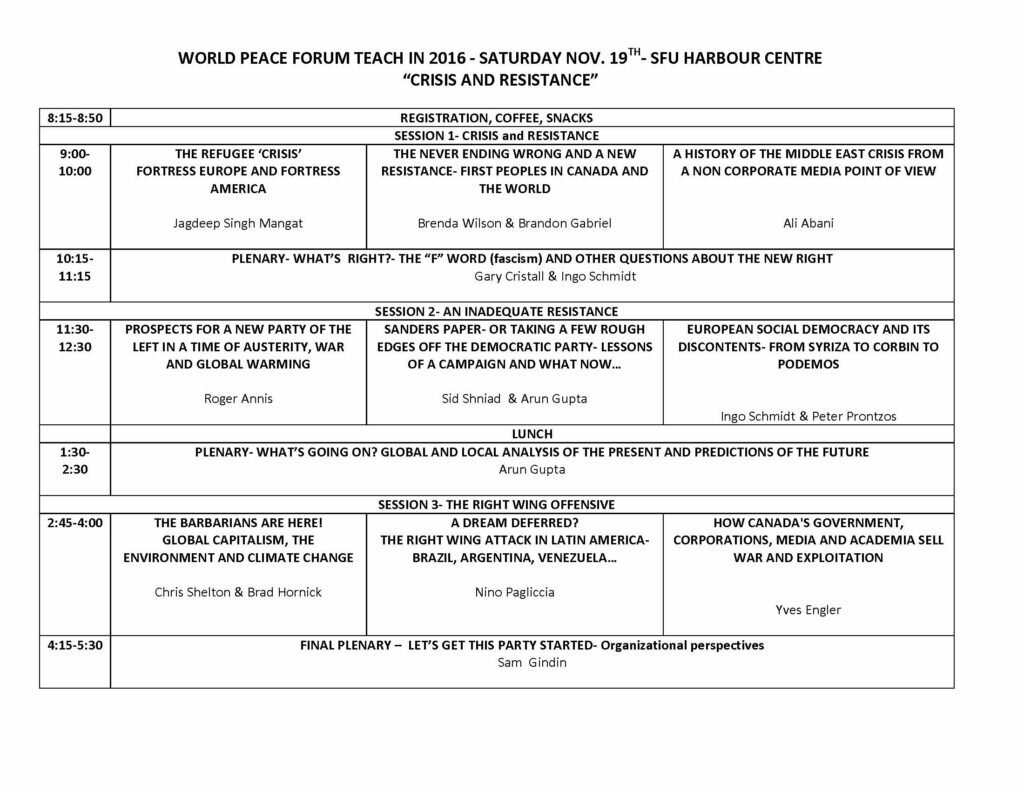 Speakers' Bios
Roger Annis is a retired aerospace worker in Vancouver, Canada and a frequent writer on political issues in Canada and internationally. He publishes a website called 'A Socialist in Canada'. He has visited Crimea and Russia on several occasions over the last few years, including as a delegate to the antiwar conference that took place in Yalta, Crimea in July 2014. He is an editor of the website 'The New Cold War: Ukraine and beyond'.
Gary Cristall is a long time Vancouver socialist activist and cultural worker. He teaches cultural policy and arts administration at Capilano University, amongst other activities. In Chile, where he lived in 1972-73 he came to know the difference between fascism and right wing populism.
Yves Engler has been dubbed "Canada's version of Noam Chomsky" (Georgia Straight), "one of the most important voices on the Canadian Left today" (Briarpatch), "in the mould of IF Stone" (Globe and Mail), and a "Leftist gadfly" (Ottawa Citizen). He is the author of nine books and hundreds of articles. His latest is "A Propaganda System: How Canada's Government, Corporations, Media and Academia Sell War and Exploitation".
Brandon Gabriel is a member of the Kwantlen First Nation and resides with his partner Melinda and his daughter Jamie in unceded Kwantlen territory in Fort Langley, BC. He is a graduate of Kwantlen Polytechnic University and Emily Carr University of Art and Design. He is an internationally renowned award winning visual artist and is active as an educator in his community for social justice issues.
Sam Gindin, from Toronto, was the Director of Research for the Canadian Auto Workers union from 1974 until his retirement in 2000. From 1985 until 2000 he served as assistant to the president of the union, first for Bob White and then for Buzz Hargrove. He participated in the formation of union and social policy and in strategic discussions on the structure and direction of the union. He wrote a book on the history of the CAW 'The Canadian Auto Workers: The Birth and Transformation of a Union'. After retiring from the CAW he became the visiting Packer Chair in Social Justice from 2000-2010 in the Political Science department of York University. He remains active in labour and social movements as a member of Socialist Project and the Greater Toronto Workers' Assembly.
Arun Gupta, from Portand, contributor to 'In These Times' and 'Registering Class', the 2014 edition of the 'Socialist Register', is a founding editor of 'The Indypendent' magazine and the 'Occupy Wall Street' journal. He is working on a book about the decline of the American Empire.
Brad Hornick is a sociology and anthropology grad student at SFU and is active with the Vancouver Ecosocialist Group.
Jagdeep Singh Mangat is a lawyer in Surrey who focuses on immigration law. His particular interest is in worker rights, especially the rights of low wage private sector workers.
Nino Pagliccia is from Venezuela. He has two Master's Degrees from Stanford University and is a retired researcher on Canada-Cuba collaborative projects from UBC. He has been a long-time activist nad has organized groups to do voluntary work in Cuba for almost 15 years. He is the editor of the book "Cuba Solidarity in Canada – Five Decades of People-to-People Foreign Relations", and regularly contributes articles for the newspaper People's Voice.
Peter Prontzos immigrated to Canada as a Vietnam War resister. In addition to working for peace, his priorities are the environment and social justice. He has written for the Globe and Mail, the Georgia Straight, and the Vancouver Sun, amongst others, and is working on a book about the human condition. He teaches Political Science at Langara College.
Juan Sadoun is from Rojava (Kurdistan region in Syria). His fields of study are Economy and the Ottoman Archives, and he is an active member of the Kurdish community.
Ingo Schmidt is an immigrant from Germany. He's been active as a shop steward, in anti-fascist mobilizations and in international solidarity work. He's also an economics columnist for a socialist paper and has published books on neoliberalism, social democracy and, dearer to his heart, Rosa Luxemburg.
Chris Shelton is a born in Vancouver social activist whose interests are human rights, peace and urbanization. With degrees in Economics and Accounting from SFU he works in a boutique law office in Vancouver as their accountant.
Sid Shniad is, among many other things, a member of the national steering committee of Independent Jewish Voices – Canada. He is an inveterate editor and disseminator of useful information.
Mamad Toz is from Bakur (Kurdistan region in Turkey). He is a Senior Internet Programmer working for a software company in Vancouver. He is also a founder and the president of MalaKurd.
Brenda Wilson, from Prince George, is the Highway of Tears coordinator for the Carrier Sekani Family Services in PG. Earlier this year she walked for nearly three weeks covering 742 km along every centimeter of the infamous stretch of Highway 16 to raise awareness of the cases of missing and murdered Aboriginal women. Years ago, Wilson's sister Ramona was murdered, one of dozens of women who were victimized along the Highway. "It's a healing journey", she said, adding that she's still going through that process after the loss of her sister in 1994.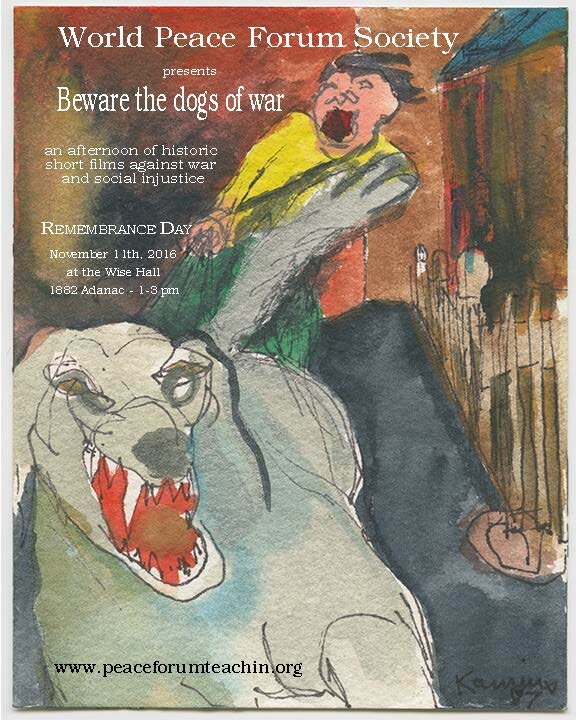 FILM PROGRAM FOR WISE HALL 1:00 pm NOV. 11
Canon Song 1931 and 1989
Two versions of the Brecht/Weil matsrepiece from The Threepenny Opera. The chief of the gangsters and the chief of police reminisce about the good old days in the colonial army. The first is from the 1931 film while the second features Raul Julia and Bill Nighy in a 1989 production.
Ferdinand the Bull 1938
A Walt Disney adaptation of Munro Leaf's wonderful story of the bull who said no! This came out at the height of the Spanish Civil War and the approach of WWII.
The House I Live In- Frank Sinatra 1945
Written by Albert Maltz, (he won an Academy Award for it!) one of the Hollywood Ten, and featuring a song by leading left wing composer Earl Robinson (I Dreamed I Saw Joe Hill Last Night), and writer Lewis Allen (Strange Fruit) Sinatra takes a smoke break during a recording session and educates a group of boys in anti-racism.
"The Brotherhood of Man" 1946
United Auto Workers Animated Script by Ring Lardner Jr., another Hollywood Ten martyr. Directed by Robert Cannon. Based on a pamphlet by Ruth Benedict and Gene Weltfish. "A contribution to the American people from the UAW-CIO." Another anti-racist classic from the American left just before McCarthy. Paul Julian was involved in this one too- see Hangman. Robert Cannon id the direction and animation as well. He was a leading animator with United Productions of America (UPA) the little studio that changed the course of modern animation. Cannon also invented Gerald Mc Boing Boing.
Neighbours- Norman McLaren 1952
Another Academy Award winner for best short documentary, this was written and directed by Canadian animation genius, McLaren with music composed by him too. Technically ambitious, it employed the principles normally used to put drawings or puppets into motion to animate live actors. Politically brave, it was made at the height of the Cold War.
The Hangman- 1964
A parable about the consequences of being a bystander to evil,
The poem was by Maurice Ogden. Narration was by Herschel Bernardi. Music by Serge Hovey. The design was by Paul Julian and animation by Margaret Julian. Produced by Paul Goldman. All of these folks were Hollywood heavy hitters. Ogden 's poem was the result of his being blacklisted during the McCarthy inquisition.
Capitalist Sharks- Prophets and Lessons-196?
A great 60's Soviet propaganda film combining animation with fantastic use of old graphics and film.
American Imperialist Shooting Range- 196?
More Soviet attacks on free enterprise using more great animation with a great jazz score.
And maybe more….
The World Peace Forum Society was founded to organize the World Peace Forum in 2006. This Vancouver gathering drew five thousand activists to a myriad of discussions and events focusing on how to make the world a better place. The theme of the 2006 event was "Cities and Communities: Working together to end war and build a peaceful, just and sustainable world." In the Forum's final communiqué, The Vancouver Declaration, it stated "In 2006 the world confronts the illegal war and occupation in Iraq, racism and the erosion of civil liberties, renewed nuclear threats, and global warming…  The world faces massive poverty, homelessness, rising rates of disease and increasing economic inequality coupled with unprecedented military spending." Sadly, all of these are still with us, and getting worse.
In light of this, where do we go from here? Have we been decisively defeated or is there hope for the future? We believe that there are a number of signs that activists seeking to work in the spirit of The Vancouver Declaration can look at and even find limited reasons for optimism. These include the election of a 'man of the left' as leader of the British Labour Party; the Sanders Campaign in the United States which has spoken the 'S word' (socialism) in public for the first time in many years; an almost unanimous recognition that climate change is caused by human activity; the opposition of hundreds of thousands of activists to racist and xenophobic vitriol against immigrants and refugees seeking asylum in Europe; the election of the Liberal government in Canada, which, stealing much of the program of the Left, has filed off a number of the sharper edges of the Harper agenda; and the fact that neo-liberalism appears to have been a passing phase in capitalist economic and social policy and is now in crisis with various neo-Keynesian policies being adopted.
While none of this goes far enough, and while attacks on civil and workers' rights are still in full flood, fight backs are still a part of the political scene everywhere. New ideas, and in some cases good old ideas, are being proposed – ideas that are in the spirit of the World Peace Forum, the various Social Forums and other progressive and potentially anti-capitalist assemblies and movements.
To celebrate the tenth anniversary of the World Peace Forum we want to look at the current national and international situation and pay special attention to movements of resistance.
Stay tuned for the program and we hope you will join us on Saturday Nov 19.
– Gary, Ingo, Rachel, Chris, Jeannie and Andrew